Just for Kicks, Keep an Eye on Isabella Acres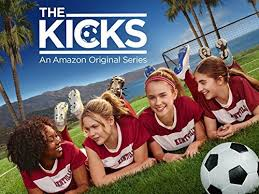 When Mirabelle Harris first shows up in the new Amazon series The Kicks, it's like, "Okay, the mean girl is in the house."
Then an odd thing happens. Isabella Acres, who plays Mirabelle, not only makes her sympathetic, but kind of cool.
"She can seem standoffish, but there are reasons behind the wall she puts up," says Acres. "She's not your stereotypical mean girl."
That makes Mirabelle (above, second from left) intriguing, which is pretty much the same thing that can be said for The Kicks.
Based on a series of books by U.S. National soccer team star Alex Morgan, The Kicks read more >>>
Source:: <a href=http://www.huffingtonpost.com/david-hinckley/just-for-kicks-keep-an-ey_b_12225612.html?utm_hp_ref=entertainment&ir=Entertainment target="_blank" title="Just for Kicks, Keep an Eye on Isabella Acres" >HuffingtonPost.Com